September 2022 will mark a decisive step for Beeye: the arrival of Beeye Quasar.
We are delighted to talk about a step for this new version of Beeye because this major advancement is part of a more global vision on what we want to bring you tomorrow. We consider that you face multiple challenges day in and day out that cumulatively can plunge you into a vicious and destructive circle that can be easily avoided by being guided daily. The uses, expectations and operating methods of our society are changing at a rapid pace. That's why we are convinced that tomorrow's work management will have to mean much more than today.
Beeye helps service companies to carry out their projects by planning their activity in an optimal way. To that end, we wish to offer a virtual assistant tomorrow that will be at the service of each staff member , in order to facilitate their daily life and give them the attention they deserve. Beeye Quasar is a decisive step to advance in this direction today.
Cooperation stems from listening
Like any company, we listen to our customers. But what characterizes Beeye more particularly is the cooperation when implementing our solutions. We like to present ourselves as technicians on hand as facilitators, listening to the need and able to adapt our solution according to expectations. Beeye was launched on this principle and it is quite natural that we continue to advance with this philosophy.
Beeye was born by customizing its tool to the needs of its first customers. We have continued to move forward in this direction by taking care to listen to them even today to inspire and feed our reflection on this new version.
Their feedback and the relationship of trust established over the last few years have thus enabled us to perfect the user experience by optimizing our interface to meet the challenges of their daily lives more easily.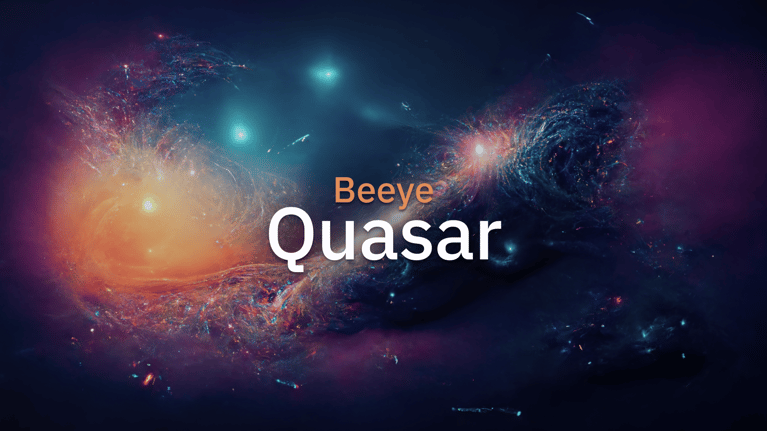 Head in the stars, feet on the ground
We are an engineering company. Our goal is to give you access to the latest technological advancements to serve your daily life.
Accordingly, like adventurers in the discovery of space, our development team scans the stars of new technologies to bring you the essence of their discoveries in new features that can rely on the best of them.
Their objective is multiple:
identify the most relevant features: those that will be part of the future
explore their potential: by understanding how they can serve you
make the most of them: by making sure you use them to the utmost
Beeye Quasar is crossing a new boundary by relying on the Blazor technology developed by Microsoft and showing new capabilities and stability already recognized.
Consistency, a quest for merit
Our determination to be continually listening to you has led us to multiply the additions that have this unfortunate tendency to not only jeopardize the stability of the platform but also to generate inconsistencies in ergonomics.
In order to spare you from coming one day up against an improbable tool that has become inaccessible by its complexity, we decided to review its entire interface to make the new precepts, the basic rule.
Beeye has consequently implemented in Quasar this rigorous design system from which the entire interface is inspired and interacts through new standards and much more intuitive to facilitate your daily navigation and accessibility to the data that interest YOU.
Features with stellar power
Beeye pushes the experience further without denying its origins. All the basic features have consequently been deepened to increase tenfold the visibility on the activity, promote cooperation on a daily basis and ultimately increase productivity and better control the profitability.
By enriching its entire interface, Beeye now enables each user profile to access an interface that will meet their expectations and allow them to make the decisions that are their responsibility:
Administrators

: reliable data to make informed decisions

Partners

: personalized reports to anticipate problems

Planners

: intelligent planning to facilitate the organization of work

Staff

: a personalized vision to manage their daily work better
Beeye Quasar will therefore increase the perceived value of its daily use tenfold by focusing on the specific expectations of each of its users. We have come to know you better and have understood that our tool must reflect each of your needs. You are unique and the use you make of that tool on a daily basis must also be unique.
See you on September 13th.
Learn more about the Beeye Quasar experience:
⁂