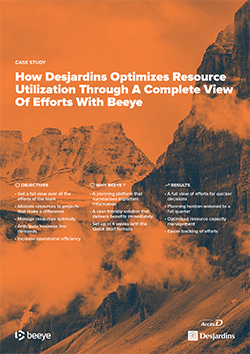 Through its activities in operational efficiency, business process improvement, and business intelligence, the team aims at making the jobs of other employees throughout Desjardins to improve customer satisfaction down the line.
To do so, the team works in parallel on projects to implement improvements while monitoring and analysing the current situation to identify new improvement opportunities.
Thanks to their work, Desjardins was named Best In Class and a #1 Leader for their customer experience according to Forrester Research.

With Beeye, Desjardins achieved immediate results, including:
A full view of efforts for quicker decisions
Planning horizon widened to a full quarter
Optimized resource capacity management
Easier tracking of efforts
For Louis Charest, Director of Operational Efficiency and Process Integration, Beeye offered an answer to the challenges he was facing with his team:
Are we working on the right things, the ones that will move the needle for the department? This tool will help us separate unnecessary things that can be removed from things that really make a difference for customer service, satisfaction, and costs.
To learn more, you can read the full case study by filling the form below.
About the
Desjardins Group
The Desjardins Group is the largest cooperative financial group in Canada, managing $258.4 billion in assets and generating a $1772 million in surplus earnings in 2016.
With more than 47000 employees working in more than 1000 service outlets throughout Quebec and Ontario, Desjardins offers services to more than 7 million members and clients, making the group a household name.
The group has received numerous prizes for the safety of their banking services, their quality as an employer, and for their social involvement.