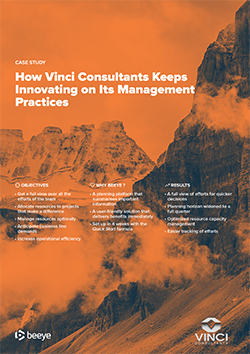 Like many growing companies, Vinci Consultants faced two challenges their tools could not help them with:
In a company with an increasing number of projects, initiatives and tasks, how can we precisely estimate the profitability of the company not just globally, every year, but every day, for each project, so we can identify the activities that create the most value ?
With staff growing in size, how can we bring down the right information to the right person to better allocate our efforts and benefit from the most profitable activities?
Since it had become too time-consuming to answer these questions with ad hoc tools built in-house (hours spent extracting and interpreting data), Vinci Consultants naturally turned to Beeye.
A user-friendly tool that
makes time tracking a breeze

for every project

After a quick set-up period, Beeye has almost completely replaced the tools used in the past.

Thanks to a more user-friendly interface, employees fill in their time sheets more diligently, which results in more precise time tracking of the actual time spent on each project, deliverable or non-billable activity.

The tool also offers a richer global view that can easily be used during weekly meetings.

All project managers can now control their activities and budget independently.
How becoming more
aware of the profitability

of your activities can help you innovate while channeling your ambition

For Vinci Consultants, setting up Beeye had a series of positive consequences at different levels:
As expected, Vinci Consultants now can check their budgets and manage their costs more efficiently,since project managers and production directors can individually check everything they need.
As a consequence, Vinci Consultants gets more visibility over the totality of its efforts and can pick clients more rationally based on their past results.
Beeye caused a real revelation about the way time was split between billable and non-billable hours.
Time devoted to business development and R&D activities, among others, can occasionally be adjusted to rebalance efforts towards billable projects when necessary.
Vinci Consultants can channel their business development ambitions (new clients, new markets) by looking at their efficiency by type of client or by vertical.
To summarise, Vinci Consultants has satisfied its need for budget verification by setting up a precise and reliable profitability measurement system.
Their next step will be to implement a strategic planning process that will draw from this new ability.
To learn more, you can read the full case study by filling the form below.
About
Vinci Consultants
VINCI CONSULTANTS, is a multidisciplinary firm with specialists working in civil engineering and urbanism. Hundreds of projects, both public and private, have been designed by our firm in greater Montreal and the province of Quebec since 1992, and in Haiti since 2012.
VINCI CONSULTANTS has deeply changed nine years ago to work especially on sustainable projects. Passion, diversity and involvement in green technologies of the fifteen (15) employees in Montreal and in Haiti makes VINCI CONSULTANTS a major company in the sustainable market in Quebec.
The Water Canada's prize Water's next was awarded to VINCI CONSULTANTS in 2012 and distinguished it like one of the five more successful Canadian companies working in water management. Lastly, an urban planning department was added to the company to complete sustainable projects with environmental, economical and social aspects.