September 2022 will mark a decisive step for Beeye: the arrival of Beeye Quasar.
In our previous article, we presented the objectives we set with the creation of Beeye Quasar. In order to gain a better understanding of what this new version will bring tomorrow and especially so as to project yourself better in this new experience, we would like to have you discover the foundations of this technological advancement in greater detail.
A quest for performance
Thanks to its success, Beeye has seen its number of customers grow at an exponential rate in recent months, bringing with them on board for this adventure along with their employees, their missions and daily tasks, sometimes by tens of thousands.
This volume of data entering the Beeye platform was both a challenge and an opportunity to rethink its processing and accessibility.
As we redesigned the vessel that would take you to your quest, it became clear to us that we needed to go further in making your experience even more fluid. So we decided to go beyond our current standards by completely rethinking the technical infrastructure so that it meets tomorrow's needs today.
With Quasar, you will be able to load thousands of elements without realizing it, so all our users will be provided with a fluid and pleasant experience at the height of its use irrespective of the volume of requested data.
Isn't the best technology the one that makes you forget its power? This is what we set out to do with Beeye Quasar: to make you forget the magic that happens when you instantly access your data, no matter where you are.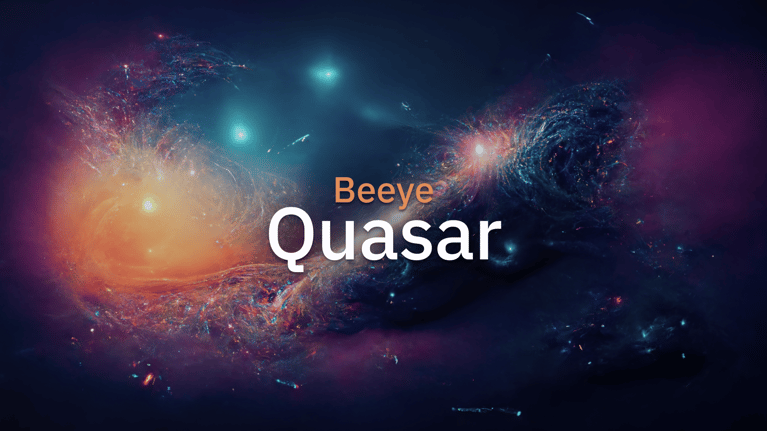 An interface that combines fluidity and functionality with multiple possibilities
Performance is a must, but it's nothing without experience. For an adventure, you need to have a journey that lives up to your expectations. We have thus redesigned all the features of Beeye so that this adventure will meet your expectations:
Simplified navigation

: condensed menus with direct links to the most important pages for a smoother navigation, thereby offering new users a more intuitive grip and greater accessibility to all user profiles.

Scheduling

: the arrival of automation in work management, offering optimized schedules that automatically take into account the constraints of each organization, the expectations of each client and the deadlines to be met.

Customized views

: management menus and standardized panels that present information in a legible way and can be customized at will to keep only the essential.

Intuitive design

: a design with clean graphics to facilitate reading and highlight key data to facilitate access to information and quick decision-making.

Management page with ultra-powerful reports

: the pages used to manage essential data in Beeye (customers, missions, tasks, collaborators) boast unequalled power and increased readability by inheriting a unique report view management system.

Visual task management page

: the visual optimization with the "Kanban" view makes it possible to manage the team's tasks more quickly and to identify the necessary actions more easily.

Decoupled performance

: ultra-fast navigation between pages and unprecedented data loading irrespective of the volume of data.
Quasar will offer you a unique experience where you will be able to push further each of the features that made Beeye's reputation. Performance and simplicity of navigation will be the gateway to a universe of possibilities that was previously inaccessible to you.
See you on September 13th.
If you want to learn more about it:
⁂