An application such as Beeye can help you efficiently manage your human resources. Here's how in 7 best practices
1. Anticipate future HR needs
Good capacity planning will enable you to identify jobs that need to be filled in the short, medium and long term.
In the following example, there is a clear overcapacity for integrators in July. Since it's only a temporary spike, it makes more sense to move some activities around or hire a temporary contractor than to hire a full time employee.

Thanks to this long term view, it's possible to hire the right person at the right time, and avoids costly lay offs that could have been prevented with the right information about the nature of the need.
This long-term vision helps to recruit the right person at the right time and allows you to avoid costly layoffs that could have been prevented with the right information regarding the nature of the need.
However, when demand for a given job remains in the red area and hiring is unavoidable (when you cannot simply reorganise your planning), hiring full time employees would make more sense.
Beeye's advantage is to centralize all required information on employees, projects and operations (as well as activities to be carried out).
2. Manage employee competency and development
Skills management is about matching the needs of the business with the available skills. A tool can help track and optimize the management of your skills.
With Beeye, you can add competencies and skill levels to the profile of your employees. The types of competencies and skill levels can be customized to your fit your situation.
One way to get started is to ask your employees to add their competencies and skill levels to their profiles, and go through an approval phase with their managers. Ideally, managers and employees should meet to discuss their existing competencies and the ones that would be good for them to acquire.
To identify and reduce discrepancies between required and available competencies, we recommend tracking your employees' interest in developing new skills to pair them with other employees better versed in the skills they want to learn.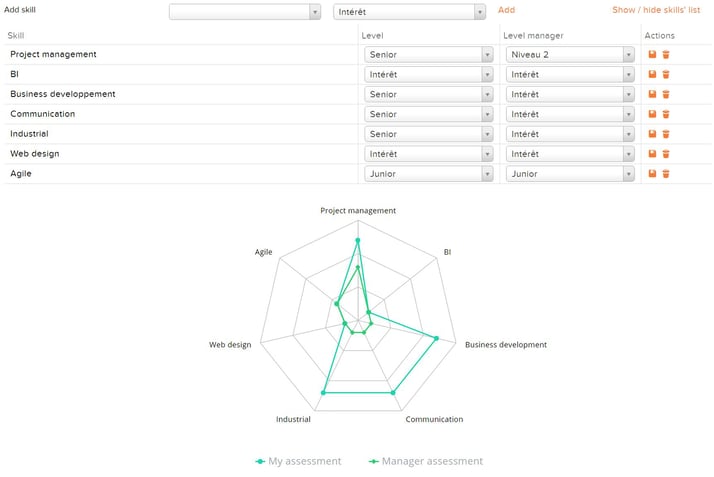 In this example, you can see that the employee has indicated they are "Level 1" for the skill "Citrix", while their manager has given them a "Level 2." The employee is also interested in developing their project management skills, which means a competency development plan can be set up.
Beyond individual employees, Beeye also provides a global view of a team's competencies. That way, you can assess your team for balance and continuity. For example, you might want to ensure that at least two members of your team possess the kind of skills needed in emergency situations, so that you don't run out in case one of them leaves the team or company.
3. Take availability and competency into account when assigning employees to projects
Good ressource assignment must take into account key variables such as employee availability (to avoid pushing employees over capacity or failing to deliver on some activities) and employee competencies (to ensure the right employees are assigned to the right activities).
Beeye gives you access to all of those variables, as well as to the hourly rate of your employees so that you can ensure your projects stay profitable when you bill internal or external clients.
You can then plan your efforts linearly, per hour or per week, as a percentage of employee time, or as a function of availability.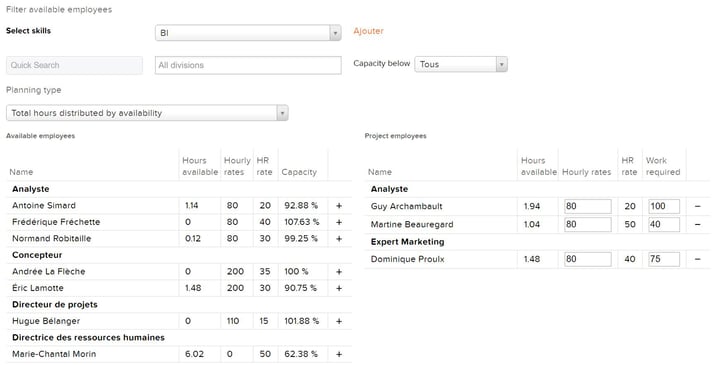 4. Ensure your employees' workload is right
Employees working over capacity can quickly be exhausted, with all the negative consequences you can imagine, whether human or financial.
With Beeye, you can visualise your employees' workload over the short, medium and long term and ensure it stays realistic and sustainable.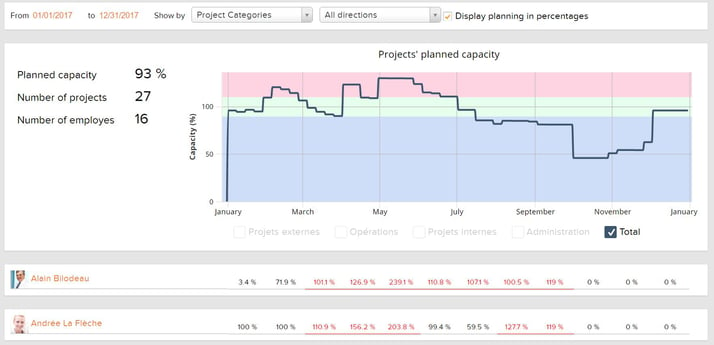 You can check your employees' workload by direction or by job, and dig into the details per employee to see how you can plan activities differently when required.

⁂