We are continuing our column on the different approaches that will help you improve your project management practices. Today, we are going to focus on project scheduling one of the most important important steps in project management.
How to create a project schedule
Now that you understood the purpose of a project schedule here's how to actually create one.
Step 1: Defining the tasks
The first step is to identify all the tasks that will help you accomplish the project. To do that, you must identify all the deliverables that build the whole project. These deliverables can be identified in your WBS (Work Breakdown structure).
Once you've established your deliverables, you must create a list of tasks that need to be carried out for each deliverable.
Defining your tasks will be helpful once the project is underway because it will avoid confusion about what needs to be done to achieve your goals and meet all the deadlines.
Step 2: Identify dependencies between tasks
Now that you have listed the tasks, the next step involves identifying dependencies between these tasks. This will help you determine the order in which your tasks need to be performed. That way, you can complete the most important tasks first.
To do this, simply examine how each task relates to one another. For optimal result, don't forget to go through the different types of dependency relationships because they can affect the start & end date of each task and could potentially impact the whole project.
When identifying relationships between tasks don't forget to keep an eye on constraints such as time and resources.
Here are examples of the type of dependencies to look out for:
Finish-to-Start: Task A must be finished before you can start Task B
Start-to-Start: Task A must start before Task B can start.
Sequencing your tasks and understanding their relationships will help you better address future scheduling issues.
Step 3: Identify resources that will carry out the task
Resource planning is a critical step in project scheduling.
In this step, you will have to identify the resources that are available to deliver the project. This is important, because many of your resources could be assigned to other projects in parallel, which can cause scheduling conflicts.
To determine what resources are available, you should consider capacity planning. It's an efficient planning method that helps you better manage your resources for a particular project. It takes into account aspects such as task priority, your resources' availability, skills and hourly rate.
Allocating you resources properly is important, if some of your resources are over capacity, it's not a good idea to add more to their plate otherwise you would be overworking them. This is why you should consider resources who are under capacity, this way you're levelling out the workload and making sure you avoid periods of inactivity.
Resource planning will help the project manager gain more visibility on who's doing what and focus on making sure that each task is being efficiently executed. It also promotes quality work and allows each resource to have a clear outline of what is asked of them.
Step 4: Estimating the time it will take to complete each task
This is the most important step in project scheduling, because it can have a substantial impact on your project's cost.
Now that you have assigned resources to each task, the next step is to determine the duration of each task. The duration is defined as the total number of periods required to complete the task. These can be in hours, days, weeks or even months depending on the size and complexity of the project.
A common project management mistake is underestimating the amount of time each task will take to complete. When that occurs, your team is rushed into completing the task resulting in poor quality work.
This is why efficiently estimating time is important, for both your clients and resources.
Another thing you could do is look at historical data from previous projects with similar characteristics to help you make better estimates.
Remember, your resources could be working on several other projects in parallel, this will cause scheduling conflicts. Here are some of the factors that could impact the duration of a task:
Individual schedules
Vacation days
Level of skill of each resource
Delays caused by other issues
Step 5: Always keep your project schedule up-to-date
Once the project schedule is completed, you can pass it over to your manager.
When the project starts, all of your estimates are subject to change, which is why you should always keep your schedule up-to-date and the data it holds as accurate as possible.
Organise, Analyse & Compare
Now that you've created your project schedule, you can use excel to analyse all the data related to your projects. The information found in your project schedule is the first step to improve your decision making process as well as your forecasting.
By going the extra mile, you'll be able to answer some of the most important questions every project manager has come across:
Are my employees working on the right activities?
Can my team take on new projects?
Are we working for free?
Do we need to hire someone for this particular project?
To be able to answer these questions, you can start by analysing your excel timesheets. Project managers are able to use the information found in timesheets to make strategic decisions. With all the information collected from the timesheets, project managers will have more visibility and better insight on what's going on with every employee and project.
Once that is done, you can also create a capacity planning graph in excel - based on the project plan that we've provided - it's a project management tool that mitigates your planning risks and helps you improve your forecasting
And lastly, you can create an excel pivot table, this data processing tool allows you to organize, analyze and compare large amounts of data quickly to be able to make more informed decisions.
Project planning is an iterative process that requires time and patience. If there's one thing you should keep in mind, it's to work with data that is accurate and up-to-date. You should ALWAYS UPDATE your excel project planning page throughout the entire project. You don't want to be making decisions based on expired data.
Get help with technology
Plan, reflect and improve
Beeye, a smart planning tool was created to assist project managers in their day-to-day.
Planning is not enough in itself: if you want your planning to be useful and improve over time, you need to compare what you actually did with what you planned this way your planning will become much more efficient.
Planning is also a matter of perspective.

To give you the most information, we have recently integrated a Gantt view, which will allow you to track your deliverables and adjust the time assigned to each one according to their dependencies.
We also wanted to include a comparison between planned time and real time. This will help you gain more visibility on the workload of your employees over a certain period of time. This is what we call a capacity planning graph or also known as workload plan.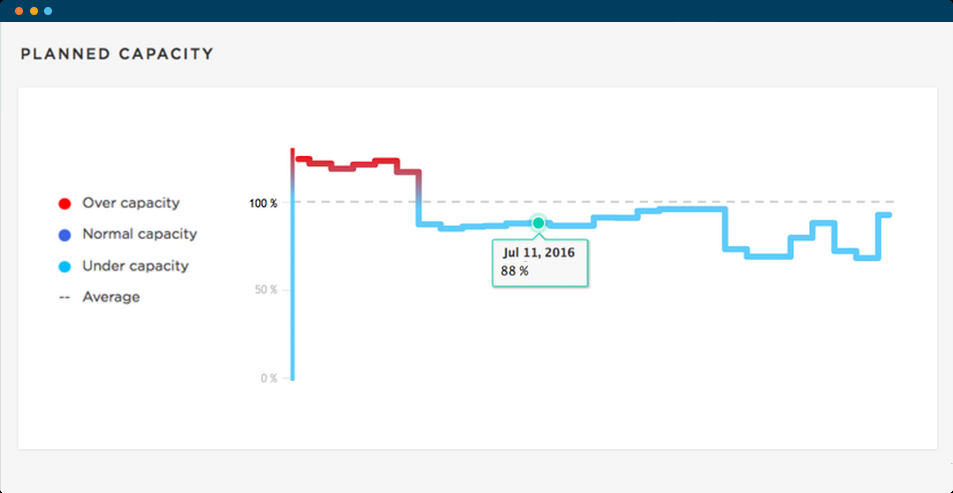 It allows you to gain visibility on all the resources assigned to your projects and activities, no matter how small they might be — operational projects, vacations and administrative tasks must also be taken into account to achieve realistic planning.
It's essentially a summary of the utilisation rate of your resources over time. It allows you to determine what resources are available, to improve the quality of your planning by levelling out your resources' workload and anticipate your recruitment or training needs.
Do you want to facilitate your project management processes? Try out our tool for free for 14 days!